The Realme brand , known above all for its telephony devices, accessories and gadgets , opens its catalog to another type of product. It is the Realme Smart Scale , a smart scale that does much more than measure weights.
Realme Smart Scale, smart fitness control
Expanding its repertoire of products, the Realme company seeks to offer more devices to integrate into the smart home. Among other novelties, the brand presents a striking accessory, the Realme Smart Scale . A scale that stores weight records and that the user can control from the mobile.
Scale Features
This new reference for health monitoring, the Realme Smart Scale , will allow users to monitor the evolution of weight . In addition, it does not perform this unique function, as it also shows the body fat index and even monitors the heart rate in real time.
The device is compact in size, with a thickness of only 23.25 mm (6 mm tempered glass cover) and a surface area of 300 x 300 mm . It is manufactured to take measurements in the range of 0.05 to 150 kg . To carry out all its functions, it has a high-precision BIA sensor that obtains information about the user's body using a professional algorithm that records body fat and muscle mass , among other aspects. It can detect variations of just 50 grams .
More details of the product
The Realme Smart Scale registers up to 16 different data , in addition to those mentioned (body mass index (BMI), muscle mass), for example also body age. That allows you more precise control of the user. This device works with 4 AAA batteries , from which it has an autonomy of approximately 360 days .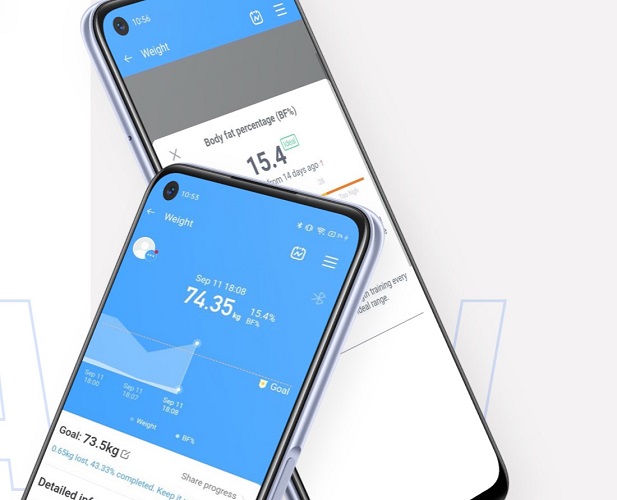 The device has Bluetooth 5.0 connectivity , to connect to the mobile and synchronize the data with the Realme link application . The app allows individualized monitoring of different users, perfect to be used as a family scale . It is expected to be available soon at a price of around 25 euros.